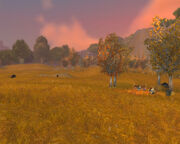 The Dust Plains are the southernmost area of Westfall. The plains have a population of gnolls that threaten the trespassers from their few camps. Also, there is an old guard tower, overrun by Defias agents, called Klaven's Tower where an Alliance rogue quest chain, obtainable at level 20, leads. This is the quest chain involved in gaining the poisons skill.
 [24] 

Klaven's Tower

 [14] 

Patrolling Westfall
Ad blocker interference detected!
Wikia is a free-to-use site that makes money from advertising. We have a modified experience for viewers using ad blockers

Wikia is not accessible if you've made further modifications. Remove the custom ad blocker rule(s) and the page will load as expected.