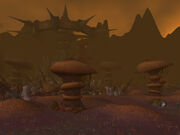 The Noxious Glade is a secluded glade found in the Eastern Plaguelands just north of Light's Hope Chapel up a hill. The glade suffers from the blight of the Scourge and is even more tainted then the surrounding Plaguelands. The air of the glade is a thick, sickly green and the ground is a dark purple. A plague cauldron and a few ziggurats are found within the glade, as well as several Scourge mobs. The mobs inhabiting the glade are levels 57-60.
Ad blocker interference detected!
Wikia is a free-to-use site that makes money from advertising. We have a modified experience for viewers using ad blockers

Wikia is not accessible if you've made further modifications. Remove the custom ad blocker rule(s) and the page will load as expected.